Is it possible to have black kitchen cabinets in a tiny kitchen? Without a doubt! While it is true that dark hues might create the illusion of a smaller space, this is not always the case. It really depends on the amount of light in the space. Many homeowners gravitate for dark cabinets, especially black cabinetry. When incorporated wisely, black cabinets may provide an air of elegance and sophistication to your kitchen design, even if the space is tiny.
How Can Black Kitchen Cabinets Improve The Appearance Of A Small Kitchen?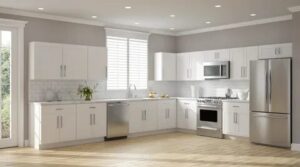 According to conventional opinion, charcoal black kitchen cabinets should be saved for big, open kitchens. According to many amateur interior designers, black cabinetry may make a kitchen seem smaller and more crowded. Indeed, there is some validity to this notion. Because black shaker kitchen cabinets do not reflect light, they may make a space look darker and more crowded than it really is. Yet, if you wish to install black kitchen cabinets in your tiny kitchen without making it look congested then you are at the right place! Read on and find out how.
With a Black Kitchen Island, You Can't Go Wrong
Kitchen islands are highly useful and adaptable. They provide more storage, seating, counter space, and appliance space. If you have a tiny kitchen, this will assist you in resolving many of your storage and seating issues. A black kitchen island helps the island blend in with its surroundings and pairs nicely with dark flooring. As discussed before, glass inserts on cabinet doors may offer the sense of more open space.
Glass Cabinet Doors
Charcoal black kitchen cabinets with glass doors are ideal for individuals seeking a trendy, elegant, and contemporary appearance in their kitchen area. Cabinets with glass doors provide visual space to the kitchen, generating the appearance of openness and spaciousness even in a tiny room. If you prefer not to have clear glass doors on your kitchen cabinets, you may go for etched or frosted glass for more privacy and a more aesthetically pleasing appearance.
Make Use of Open Shelving
As you may have seen, open shelving is becoming more popular! They're simpler to clean and maintain, and they make dishes and appliances more accessible. Open shelving adds depth to the area and makes it seem more open and airier. While this does help alleviate congestion, it will fail if your shelves are crammed. Cluttered shelves will have the opposite effect and make the area seem even smaller!
Conclusion
When it comes to painting your kitchen, not all little places must be painted in light colors! There are several inventive techniques for balancing out dark cabinetry. Black hues may provide a wealthy and sophisticated air to a room, which many homeowners want. We hope that this article helps to address the topic, can a small kitchen with black cabinets look good?  You can rely on us for planning, design, and remodeling your kitchen! We'll collaborate to design an environment you'll like.