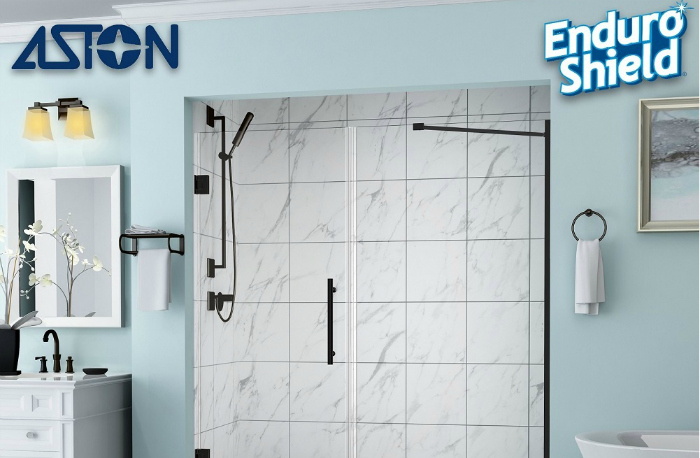 In anticipation for its new collections of Completely Frameless Shower Doors, Tub Doors and Shower Enclosures, Aston Global has announced an exciting new partnership with EnduroShield and its partner company, PCT Global, a market leader in hydrophobic coatings. With the new agreement, Aston's upcoming collections of luxurious, ready-to-install Completely Frameless Showers will include the proprietary EnduroShield glass coating – providing amazing features and benefits to its users.
EnduroShield's new value-added feature that will be included, standard, on all of Aston's upcoming shower models provides its consumers:
* Easy-to-maintain glass surfaces and reduces cleaning time of showers by 90 percent.
* Protects glass, fully warrantied for up to 10 years.
* Resists staining commonly caused from hard water deposits and limestone.
* Does not support the growth of bacteria and maintains a hygienic presence.
* Will safely hold up to the majority of common household cleaners.
* No harsh or strong chemical cleaners are ever required.
* Chemically bonds with the glass itself, preventing future peeling or discoloration Currently carries a more than 99 percent consumer success rate on its existing coatings, nationwide.
The protective coating will be professionally applied Aston's top-rated, premium 3/8-in. (10 mm.) tempered clear and frosted ANSI-certified shower glass panels for all its new upcoming models, and at no additional charge. These new glass shower models will be available for both residential and commercial markets in North America upon release.
Aston's newly crafted collections of Completely Frameless Shower Doors & Tub Doors and Enclosures that include the applied EnduroShield coating will be rolling out end of third or start of fourth quarter this year. In total, there will be more than 2000 new Completely Frameless Shower models in more than 20 stunning collections, which will be available in a wide array of dimensions (from 22 inches to 76 inches in width), shapes, unique features and desirable hardware finish options.
Find more industry news here.